The All-New Hummer EV Pickup
---
Piloting the new wave of super trucks, the Hummer EV Pickup combines traditional truck features with EV technology to give you the ultimate driving experience. The impressive GM-estimated driving range of up to 560+ kilometres gives you complete driving freedom. Even though this super truck won't be available until early 2023, let Rock Country GM be your source of information and updates on this innovative new GMC model!
Hummer EV Pickup Performance Highlights
The Hummer EV Pickup is designed to handle even the toughest off-roading experiences with simplicity and give drivers confidence that they can navigate even the most unforgivable terrains. Highlights include:
Crabwalk
This revolutionary setting uses the Hummer's 4-wheel steer, and gives the SUV the ability to drive diagonally at low speeds. This feature is perfect for navigating tight trails with ease.
Extract Mode
Adaptive Air Ride Suspension raises the Hummer by approximately 15.2 centimetres to give you the extra height you need to ride right over mid-trail obstacles.
Ultravision
Ultravision includes up to 18 camera views with HD Surround Vision waterproof, underbody forward and rear-facing cameras that provide you with real-time views of current terrain.
Specially Engineered Tires
Straight from Goodyear®, these 88.9-centimetre tires provide amazing ground clearance and unparalleled stability on or off-road.
These features — combined with the full underbody armour consisting of steel plates and shields — give the Hummer EV Pickup the protection it needs, even in the most difficult environments.
---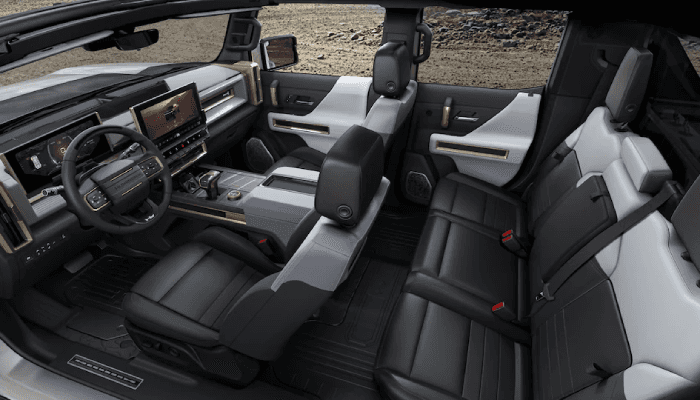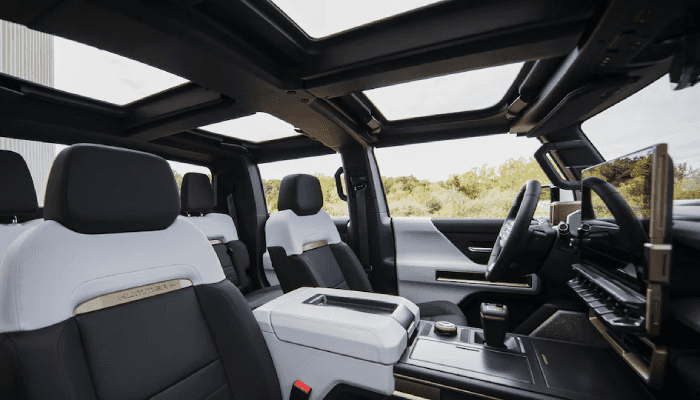 Design Highlights & Interior Features
While the Hummer EV Pickup is designed with features to increase off-pavement performance on the outside, the impressive and sleek interior is well worth noting! Highlights include:
Immersive infinity roof with modular sky panels; with optional transparent sky panels
Bose Audio System with 14 speakers and CenterPoint® Electric Vehicle Sound Enhancement
Available SuperCruise driver assistance technology
31.2-centimetre diagonal colour Driver Information Centre display
34-centimetre diagonal colour touchscreen with customisable data, settings, and controls
Massive storage capabilities throughout the interior
Stay Tuned for Hummer EV Pickup Updates from Rock Country GM
Contact us to be among the first to get important updates and information on the release of the Hummer EV Pickup. If you're interested in purchasing one of these revolutionary trucks, make sure you're on our list when these hit the lot! In the meantime, learn more about switching to an electric vehicle in Thompson, so you're prepared!
---